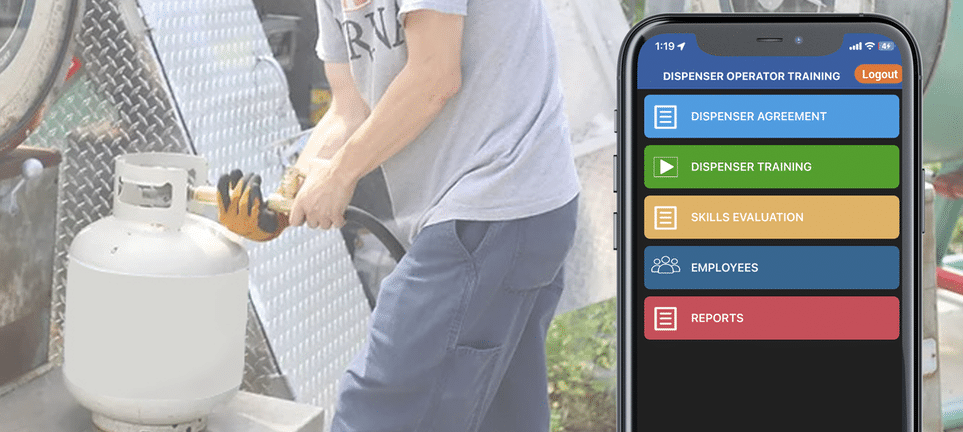 Empowering Operators and Elevating Safety and Compliance
Tank Spotter, a trailblazer in propane industry technology, has introduced a groundbreaking Propane Dispenser Training and Management app that promises to transform the industry. Renowned for its real-time connectivity and efficiency-enhancing solutions, Tank Spotter's latest offering aims to reduce liabilities, streamline safety protocols, and elevate overall service quality.
Enhancing Field Service Operations in the Propane Industry
Tank Spotter has earned accolades for pioneering technology-driven solutions that optimize safety, service tech and sales work, dispatching, scheduling, and operations efficiency. With a track record of innovation, the company continues to push the boundaries of what's possible in the propane industry.
Unlocking the Benefits of Propane Dispensing Training
Propane dispensing demands a profound grasp of safety protocols, equipment operation, and regulatory compliance. With this training feature, all this critical knowledge is now available at your operators' fingertips.
Flexible Learning:  The high turnover among Dispenser Operators poses a liability to the propane industry and Tank Spotter addresses this issue by offering on-demand training modules accessible through a mobile app. This flexibility allows dispenser operators to seamlessly integrate learning into their busy schedules, ensuring a well-trained workforce.
Streamlined Remote Management: Dispenser managers and propane companies can now remotely track and manage training, ensuring 100% compliance, even with new hires in this dynamic industry. This feature simplifies the process of monitoring and ensures that safety protocols and industry standards are consistently upheld.
Elevated Safety Measures:  Safety remains the cornerstone of the propane industry. Tank Spotter's training equips propane dispenser managers and operators with comprehensive knowledge to handle propane safely. This not only ensures compliance with regulations but also mitigates risks, creating a safer working environment for all.
Precision and Efficiency: Well-trained operators exhibit higher levels of precision and efficiency in their work. This translates to exceptional service quality and, in turn, elevated customer satisfaction. Propane companies can expect enhanced operational performance as a result.
Certification Credentials: Upon successful completion of the training modules, dispenser operators are able to achieve and retain the knowledge required for certification far easier.
Staying Current with Industry Standards: The propane industry is continually evolving, with new procedures and regulations emerging. Tank Spotter's training integrates these evolving industry standards, allowing propane companies to remain up-to-date and compliant with the latest requirements.
Taking Excellence Further: Enhanced Features
Tank Spotter's commitment to excellence extends beyond the core training modules. The Propane Dispensing Training Feature offers additional enhancements that streamline operations and elevate efficiency:
Automated Learning
With training accessible directly through the mobile app, propane dispensing-related training becomes more accessible than ever before. Users can conveniently access training content within the app, enhancing the overall learning experience.
Built-in Dispenser Agreement
Drafting agreement forms can be a time-consuming process. Tank Spotter simplifies this by providing a built-in agreement form developed by legal experts familiar with the propane industry. This streamlines the agreement process, ensuring that agreements are comprehensive and legally sound.
Customizable Training Videos
Customization is key in addressing unique training needs. Tank Spotter's solution includes customizable training videos, allowing companies to tailor content to their specific requirements. This flexibility ensures that training is relevant and engaging.
Skills Evaluation Forms
Accurate evaluation of operators' skills is crucial for performance improvement. Tank Spotter offers built-in skills evaluation forms crafted by propane industry experts. These forms enable dispenser managers to assess their operators' skills accurately.
Comprehensive Reporting
Propane companies and dispenser managers can generate detailed reports, including training history and skill evaluations, through both the app and the web dashboard. These reports provide valuable insights into training effectiveness and skill progression, aiding in informed decision-making.
Leading Transformation in the Propane Industry
By introducing propane dispensing training and a comprehensive suite of related features, propane companies can reduce their risk profile, minimize catastrophic incidents, and more affordably and easily train all their dispenser stations. When propane companies use Tank Spotter, they can save significant time and resources, translating into substantial cost savings.
The benefits propane companies obtain underscore Tank Spotter's commitment to not only meeting industry needs but also pioneering industry progress. Tank Spotter empowers organizations to streamline their operations, enhance safety, sales, and service work, ultimately driving profitability.
Explore how the propane dispenser training module is reshaping dispenser operational management by visiting   PropaneDispenserApp.com.